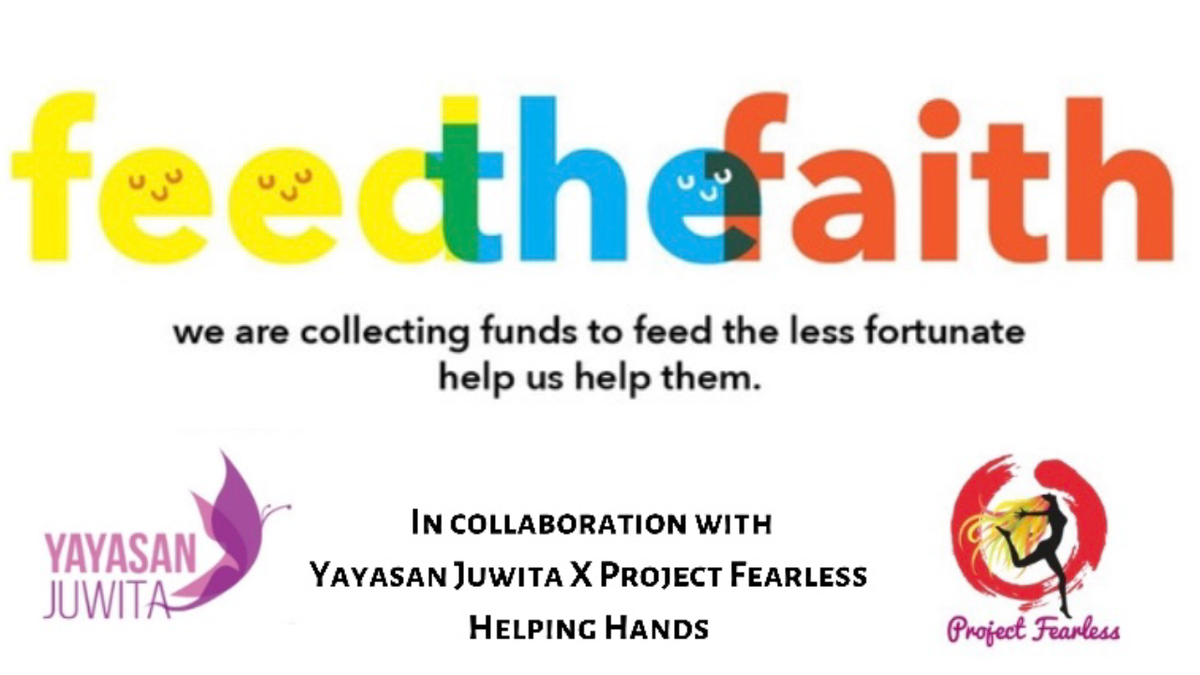 Feed The Faith is a collective non-profit effort of multiple brands and labels with Yayasan Juwita X Project Fearless in response to the Covid-19 crisis that has affected millions of people, and left many financially vulnerable. With your help, we hope to raise funds to feed the less fortunate during this immensely difficult time.
Though we are at the comfort of own home with ample of food to spare, we would like to raise awareness and send a reminder to all that not all of us are as lucky and blessed. There are many of us who are left vulnerable in this crisis. Many have lost their source of income, and is suffering, counting grains of rice to feed their families. Here with Feed The Faith, we are asking for your helping hand to spare some for the ones in need.
Any amount of your donations counts. Every ringgit counts. A few ringgit that may seem insignificant in our daily life may save a poor soul from hunger. Therefore we are asking for your helping hand to chip in and donate. Help us help them.
We also welcome anyone, or any organization who is willing to provide dry foods supplies, pampers, clothing, powdered milk or any essentials that we can give them to help lessen their burden and sufferings.
*Anyone who would like to donate other than through monetary may contact Aida-0176834843.
DONATE THROUGH:
YAYASAN JUWITA
MAYBANK
564258584336
Reference: feedthefaith
* P/S: Screenshot your donation receipt and send to Aida-0176834843
FUNDS RAISED FOR: 100% of the donation collected will go to Yayasan Juwita X Project Fearless who will be distributing the money and food rations to the less fortunate all around Malaysia.
TARGET: To raise RM100,000 that is targeted to feed approximately 1000 families in need throughout Malaysia.
DURATION: 20th April to 31st May.
DISTRIBUTION PLAN: The funds and the dry food supplies will be distributed every week to the ones in need throughout the whole Malaysia during the 42 days period. We will be focusing on providing them with some food during this Ramadhan and Raya festive.
Yayasan Juwita X Project Fearless Helping Hands is a non-profit NGO that has been actively helping vulnerable families in providing them with humanitarian and financial aid throughout the Covid-19 Crisis.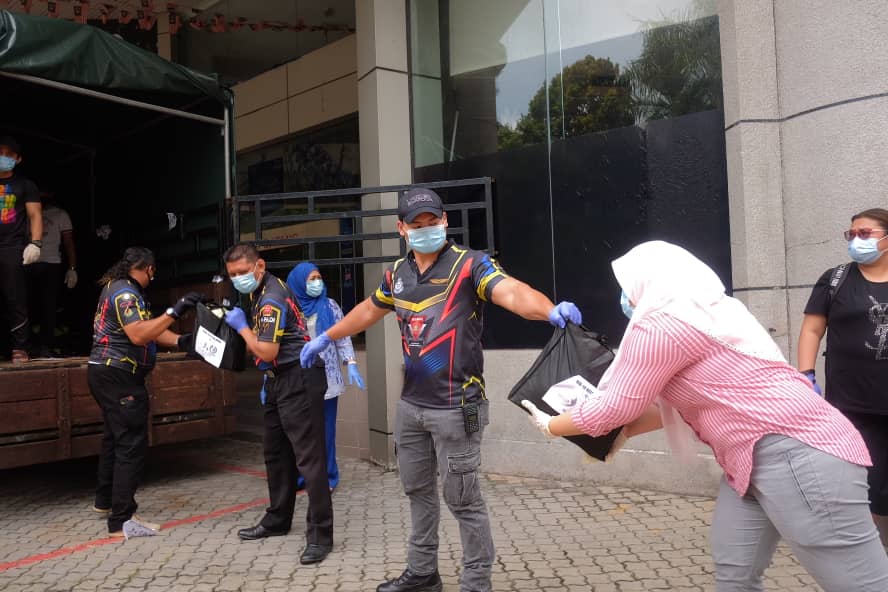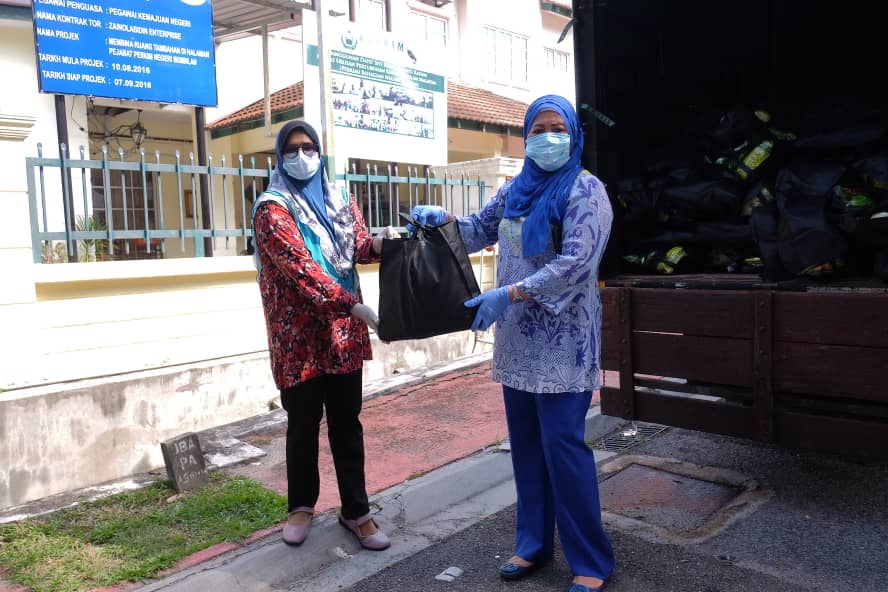 More about Yayasan Juwita X Project Fearless Helping Hands: https://www.facebook.com/MYProjectFearless
Among the brands and influencers involved in this project:
@pasarseloka: https://www.instagram.com/pasarseloka/
@monokerom: https://www.instagram.com/monokerom/
@wondermilk: https://www.instagram.com/monokerom/
@bambina.my: https://www.instagram.com/bambina.my/
@mamathoko: https://www.instagram.com/mamathoko/
@kapten.batik: https://www.instagram.com/kapten.batik/
@saa.studios: https://www.instagram.com/saa.studios/
@shals.kl: https://www.instagram.com/shals.kl/
@nadeelluna: https://www.instagram.com/nadeelluna/
@saarat33: https://www.instagram.com/saarat33/
@naurah.ameena.basic: https://www.instagram.com/naurah.ameena.basic/
@_naurah.ameena.petite: https://www.instagram.com/_naurah.ameena.petite/
@byfqi: https://www.instagram.com/byfqi/
@_kaeki: https://www.instagram.com/_kaeki/
@eightyoneofficial: https://www.instagram.com/eightyoneofficial/
@cangkuk: https://www.instagram.com/cangkuk/
@suekasueka: https://www.instagram.com/suekasueka/
@nuria.kl: https://www.instagram.com/nuria.kl/
@leelo.my: https://www.instagram.com/leelo.my/
@irsa.thelabel: https://www.instagram.com/irsa.thelabel/
@petitmoi.my: https://www.instagram.com/petitmoi.my/
@littlerimba: https://www.instagram.com/littlerimba/
@alam_manusia: https://www.instagram.com/alam_manusia/
@krispykruncheee: https://www.instagram.com/krispykruncheee/
@twentyfirstdig: https://www.instagram.com/twentyfirstdig/
@delova.kl: https://www.instagram.com/delova.kl/
@jellyrbeans: https://www.instagram.com/jellyrbeans/
@khatreena.ms: https://www.instagram.com/khatreena.ms/
@thelabels: https://www.instagram.com/thelabels/
@umma.my: https://www.instagram.com/umma.my/
@sriazni: https://www.instagram.com/sriazni/
@shalmaainaa: https://www.instagram.com/shalmaainaa/
@aqilaishamuddin: https://www.instagram.com/aqilaishamuddin/
@shairahrahim: https://www.instagram.com/shairahrahim/
@zurrs: https://www.instagram.com/zurrs/
@siulim: https://www.instagram.com/siulim/